​Acts Of DefianceActs of Defiance is a series of public interactions or interventions, theatre poems, or film essays, recording dignified and peaceful opposition to injustice and oppression.
Mama Quilla will commission, curate, and publish on the web, a filmed portfolio of work. It is hoped the work will span commissioned short pieces, from individuals or community venues, activist organisations protesting, to candid guerrilla filming from citizens witnessing small acts of justices (and big acts if witnessed). Short, site-specific pieces, commissioned, rehearsed and performed in/on community spaces, will be filmed.
It is anticipated contributions will range from experienced artists to emerging artists, to passionate individuals or groups, (who have never created film / live performance before).
Completed short film projects include Escape, written and directed By Ann Akin, filmed by Sarah Auber and Simon McCabe, Long May He Run, a film by Jeff Singleton, and Acts of Rebellion a film by Cafe Butoh.
Acts of Defiance, the theatre production, involved over 40 young Artists.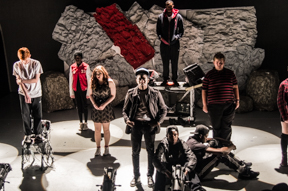 Open contributions are more than welcome, but not all submissions may be guaranteed inclusion in the online portfolio.for the Face to Face festivalIn July 2014, Happy Ending and Three Lotus Flowers, as part of our Acts of Defiance project written and directed by Kay Adshead and performed by Jody Jameson and Eugenia Low were performed in the Face to Face festival.
Distinguished veteran actress and Equity campaigner Pauline Moran's reviews:
"Jody Jameson gave a finely-tuned performance in 'Happy Ending' – a brilliantly original take on the myth of Leda and the Swan – only Kay Adshead could marry this fable to an Essex hen party with seamless aplomb."
"The one baby law in China has for the most part been forgotten in the West. Three Lotus Flowers is a timely reminder of the abuse women have suffered under this barbaric law ... Eugenia Low was riveting as the hapless victim of state abuse ... Kay Adshead's writing never sinks into melodrama but causes the audience to leave with a knot in its stomach."
Eugenia Low will perform Three Lotus Flowers on 9 October 2014 at the Lost Theatre as part of the Face-to-Face festival's Voices from the Edge.
Happy Ending is in development and will be performed in 2014/2015.
​
Image from The Singing Stones graphic novel illustrated by RAFVeilVeil is an immersive installation that becomes a performance space for spoken word, created in response to the stories of Muslim women. While protecting their identities, it will reveal the depths and subtleties very often hidden from mainstream/non-Muslim view. It doesn't just feature the niqab, but a range of Muslim women's voices. Step into the voices and stories of these women, walk in their shoes and live their lives.
Veil is an inter-generational, national piece of work, a collaboration between art forms, artists, experiences and stories.
The installation will be open throughout the day with three live performances:
Theatre in the Mill, Bradford,
1 November 2014, 11 am to 9 pm, with live performances at 3 pm, 5 pm and 7.30 pm
Z-Arts, Manchester, 8 November 2014, 11 am to 9 pm, with live performances at 12 pm, 3 pm and 6 pm
Tickets: Free and open to all
Each event will also include a free workshop, see venue websites for details.
Created by Shanaz Gulzar and Kully Thiarai, written words by Kay Adshead, performed by Eugenia Low, Rhiannon James, and Llila Vis.
​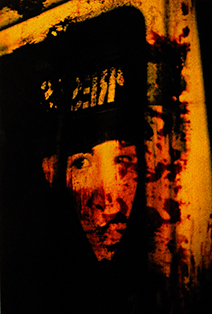 "A poetic mortar bomb". — The Times on Kay Adshead's writing for Thatcherwrite 2013
The niqab debate: "Is the veil the biggest issue we face in the UK?"
"...the Conservative MP Sarah Wollaston ... compared the niqab to an 'invisibility cloak' and said women should be clear that the burqa is a symbol not of liberation but of repression and segregation'... What has been missing from many of these arguments is the voice of Muslim women."—Kira Cochrane, The Guardian 16th September 2013
"I am a mixed race Yorkshire woman who has chosen to wear hijab as part of my identity as a Muslim. I love music, fashion and fast food, but you wouldn't know unless you asked me!" —Zanib Thackary, a Veil participant
'Adshead makes you want to take to the streets while you still can." – Financial Times on Animal
Supported by Arts Council England and Bradford LA
Follow Shanaz Gulzar on Twitter:
Follow Kully Thiarai on Twitter:
Follow Eugenia Low on Twitter: